If you don't know the structure name of cap, please kindly refer this blog, it will help you to know each details.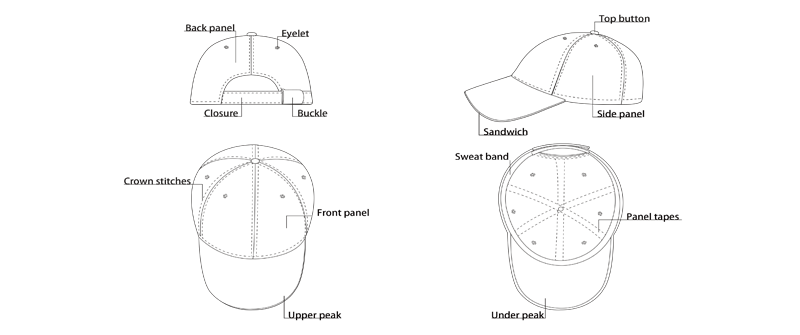 Logo
Printing, Applique Embroidery, 3D Embroidery, Flat Embroidery, Plastic Badge, Woven Badge, Metal, Liquid Chrome, Metallic Thread etc. Please provide your artwork, pictures or original sample.
Crown
Regarded as the essential part of any kind of headgear, the crown is the front portion of the hat, which easily accustoms on the head and comes in contact with the forehead. The crown of the cap is the ultimate coverage where the majority of artwork, embroidery and alteration are done. There are three different types of profile, namely low profile, medium profile and high profile which can be manufactured by balancing the varied angles of the front crown.
The low profile is more inclined to the backward, while the high profile deviates directly towards the topmost of the front crown. Based on the crown of the cap, it can also be concluded whether a cap is structured or unstructured. The differences between these two kinds depend on the material used.
Usually, structured caps employ buckram cloth in the interior portion of the caps, hence giving the headgear's a stiff look and also maintain the front part as jagged. As for the unstructured caps, the support is not available, hence giving it a baggy fitting on the head.
Panels
These are the patches of cloth which are required to generate the shape of the headgear. Usually, there are around six panel hats with a hem in the middle of the crown but five panel and eight panel hats can also be found. The five panel caps are basically acquired for mesh caps or baseball caps, which highlight more on screen printing than arty embroidery.
The necessary objective is to sew together the panels with strings which would be in tune with the color of the headpiece. The varied types of material are wool, mesh and special fabric which acknowledges both ventilation and comfort.
Top button
This section includes the modish well-coated buttons which are positioned exactly on the crest of the headpiece at the pivot of the texture material. The shades and colors of the buttons are either in accordance with the cap color or are in a very contrasting shade.
Back closures
An assorted range of closures are utilized for adjustable hats and caps. For instance, Velcro, sliding buckle, durable brass buckle or plastic snap are maintained.
Sweatband
The material is arranged in the inner section of the caps to not only assist in soaking up of the sweat, but also to retain its dryness and cleanliness. The sweatbands come in various quality, ranging from pure cotton to premium synthetic cloth with superior features.
Eyelets
These are elliptical(round) holes made on the above portion of the caps and hats, preferably for upping the swagger and also for proper airing. There are usually two forms of eyelets, either sewn borders or metallic grommets.