Order custom caps with C&T Headwear very easily
Keep in mind that our minimum order quantity is 50 pieces per style. Placing a custom headwear order with C&T Headwear is a relatively simple process, just follow the easy steps below and you will be good to go:
1. Submit us your design & info
Get in touch through our contact form or send an email directly to lewislee@ctheadwear.com with a detailed description of what you have in mind along with an artwork file (if possible).
Don't hesitate to check our website to get a taste of what we do and how we do it. Navigate through our wide range of models and style, select the one that suits your preferences and download the template.
Fill out the template with Adobe Illustrator, save it in .ai or .pdf format and submit it to us.
If you don't know how to use Adobe Illustrator, no problem, we are here to help you!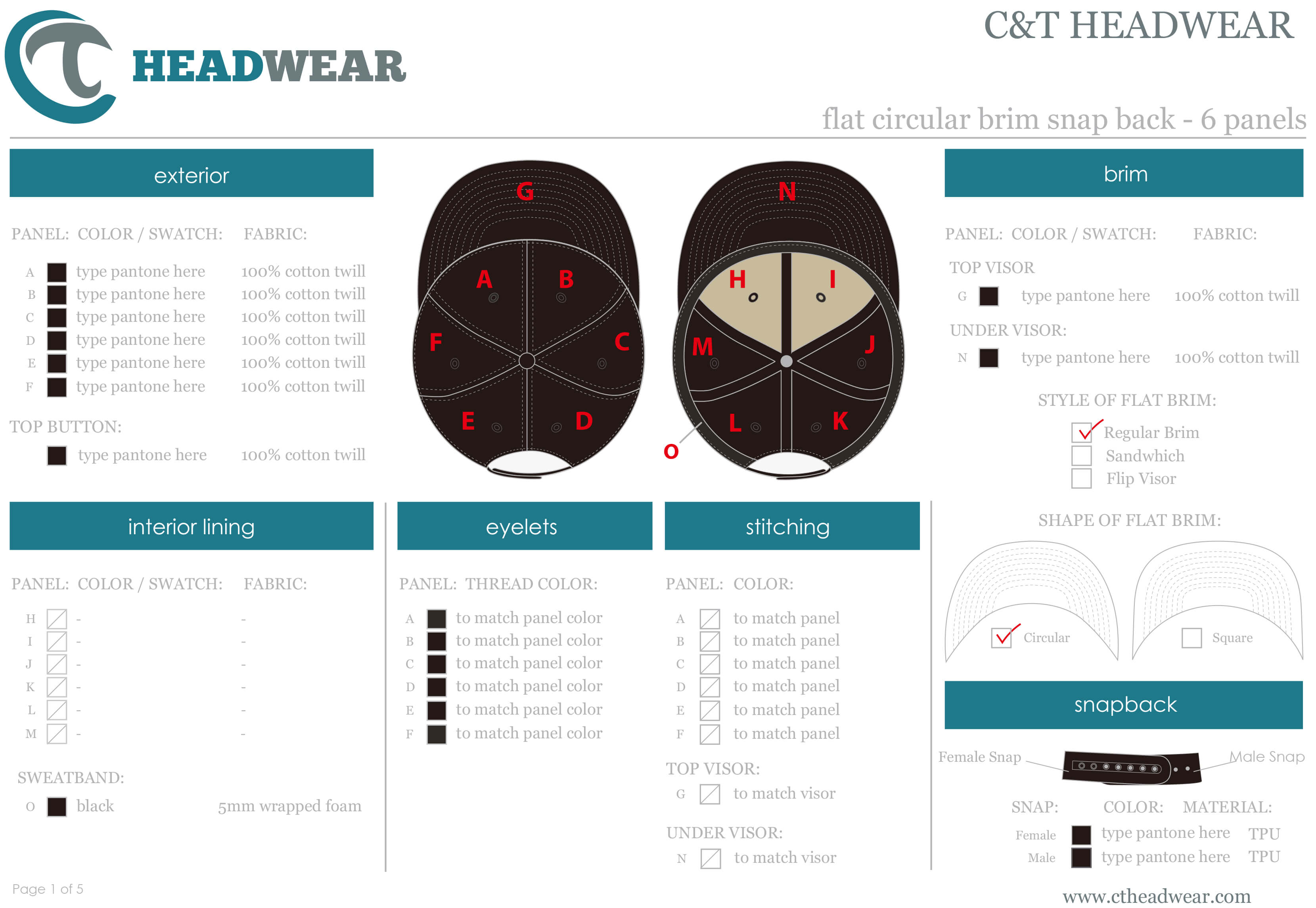 2. We get back to you
C&T Headwear representative will get back to you within 5 hours answering all your questions; you will also receive our general information file along with a folder featuring all our blank templates if needed.
3. Fine tuning the details
One member of our expert designer team will contact you if any questions or suggestions may arise to ensure providing you exactly what you want, so as to meet and exceed your expectations.
4. Pricing
After finalizing the design, we will calculate the price and submit it to you for your final decision, in case you want to place a proto sample order.
5. Sample order
You will receive an invoice from our accounting department. Each sample costs U$S 30 per piece (refunded when ordering more than 250 pieces per style) + shipping costs. After receiving your payment, we will start working on your proto. It usually takes 7 to 10 days to compete a sample, which will be sent to you for approval and comments/ suggestions. 4-5 days for delivery to your door.
6. Production order
After you decide to set a Bulk Production Order, our accounting department will get in touch with you and send you an invoice. After you confirm the details and make a deposit of 30% of the total invoice, we will begin the production process. Usually, production process takes 6 to 8 weeks to be terminated; this may vary depending on the complexity of the design and our current schedules due to previous commitments.
7. Sit back and relax – let us do the work!
Sit back and relax, our staff will be closely monitoring each step of your order manufacturing process to ensure top quality is maintained even in the most minimal details. After your order undergoes and passes a thorough final inspection, we will send you high definition photographs of your items, so you can check the finished production before making final payment.
8. Delivery
The production is finished now, you will confirm the delivery information once again. Once we receive your final payment (balance + shipping cost), we will immediately ship your order.
REMARKS:
Once all details have been approved (colors, artworks, pricing …), it is time to go ahead and launch the production. You have two options then:
1. Order a sample: we charge $30 per sample (refunded when ordering more than 250 pieces per style) + shipping costs. Once the details are approved, allow 7-10 days for the sample to be ready, 4-5 days for delivery to your door.
2. Go directly for production: go ahead with the bulk production by placing a 30% deposit (shipping excluded); you'll receive high resolution pictures of your pre-production sample with FREE charge. We can also send it to you; you will pay the extra shipping fee. The turnaround time for production is roughly 30 days, to which you can add the sampling time which is more or less 10 days.